Bio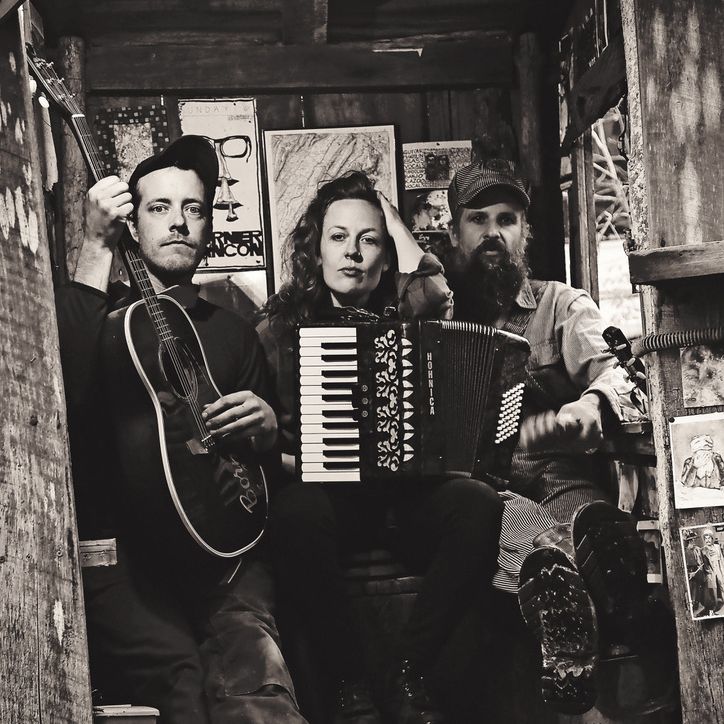 The Handshake Deals
The Handshake Deals was started by longterm lovebirds, Laura Gregory (accordion, standup bass, drums) and Casey Papendieck (standup bass, guitar, mandolin) who have been playing music in living rooms, around campfires, on sidewalks and on stage in a multitude of states and several countries since they met in February 2006 in Austin, TX. They have lived in Eastern Kentucky since 2009. They have an intergalactic kind of musical connection and it is oh so sweet. In Oct. 2018 The Handshake Deals added a third member and good friend, Cory Shenk (standup bass, guitar, mandolin, a green kazoo, fiddle). They play mostly original tunes, written from hard work, simple living, love, longing, curiosity and place among other themes. 
Beyond music, Casey is a potter and founder of Turtle Farm Pottery. Laura works for a non-profit to protect, restore, and celebrate the Red River and it's watershed. They work hard and are proud of their well-providing garden. Laura and Casey were formerly half of legendary buck wild mountain macabre band, The Bloodroots Barter (KY).
Cory is a man of many talents: playing and building instruments, dancing, wood working, and melting hearts with his rich, buttery yodel. Cory was awarded the The Red Foley award for music at Berea College in 2015 and his music has carried him through most of the 50 states, Canada, Ireland, England, France, and Japan.
The three met in the dark around a bonfire, drinking and playing tunes and carrying on in Berea, KY where Casey and Cory were non-traditional students college. The trio of misfits have diverse and far-out geographic, musical, histories yet their music has converged and ignited at their home in the Red River Gorge area of Kentucky- aka "the center of the artistic revolution- and that is part of what makes their music so unique. These movers and shakers, singers and songwriters put on a high energy, fun and engaging live show. If you are lucky you can hear stories of their lives, the road, and the songs as they swap instruments between tunes. It is a sight to behold and a show that is not be missed! Behold: Red River Grunge. 
Catch The Handshake Deals at an upcoming show. You can also grab their debut album, available August 2019.